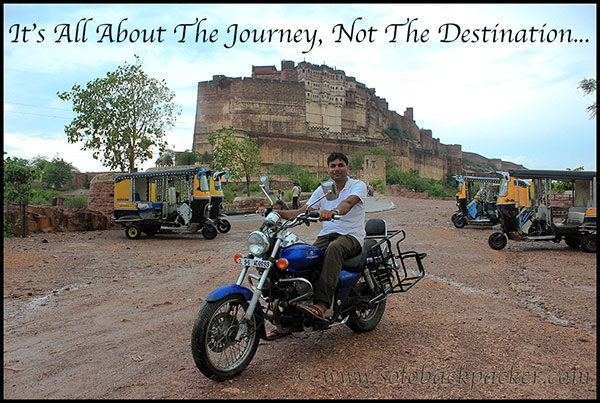 The State of Rajasthan has an important place in the history of India. The great Rajpoot warriors of Rajasthan never accepted the slavery of the mighty sultanate of Delhi and always remain a tough challenge for Lodis and Mughals. When I was able to manage the official leaves last July, my target was to visit and experience the life in Rajasthan. I had already visited the major portion of Eastern Rajasthan three years ago, so this time focus was on the Western Part of Rajasthan that includes the cities like Jhunjhunu, Bikaner, Jaisalmer, Jodhpur and also The Great Indian Desert, The Thar Desert. I was also expecting to reach upto Indo-Pak Border Post, BP 609, near Tanot Mata Temple in Jaisalmer District.
I started this journey from New Delhi on my Bajaj Avenger 220 cc motorcycle and after 12 days, 2472 kms, I travelled across Western Rajasthan covering Jhunjhunu, Churu, Bikaner, Pokhran, Jaisalmer, Jodhpur, Ajmer, Bhangarh, Sariska and then, back to Delhi. There are many places on the way, which is the part of history books and I already heard about them, but there are also many places as well as the stories that couldn't become the part of any history books or tourist guides. It was a pleasant experience to witness the rich heritage of Rajasthan one by one. This post provides a snapshot of that 12 days journey through the Western Rajasthan.
Day 1, ( New Delhi to Jhunjhunu, 230 kms) : Jhunjhunu is an old and historical town, mainly famous for the massive painted havelis built by prosperous Marwari Traders of the region. In the evening, I went to the famous Rani Sati Temple, which is just 15 minutes away from the bus stand.
While returning back from the temple, I visited The Ishwar Das Haveli. This haveli has some beautiful frescos and murals on its wall.
Day 2, (In and Around Jhunjhunu): On the second day of trip, the agenda was to visit the other havelis and forts in the smaller towns and villages of Jhunjhunu, mainly located in Nawalgarh, Dundlod, Mukungarh and Mandwa.
Jhunjhunu-Nawalgarh, 40 kms: Nawalgarh is a small town with hundreds of old havelis scattered all around. Many of them are now abandoned and not accessible. In Nawalgarh, I visited Ramnath Podar Haveli and Museum, Bhagat Haveli and Kamal Morarka Haveli.
Nawalgarh-Dundlod, 7 kms: Dundlod is another town famous for its fort and havelis. Here, I visited Dundlod Fort and Seth Arjun Das Goenka Haveli. Dundlod Fort is now a heritage hotel.
Dundlod-Mukundgarh, 8-10 kms: There are two famous Saraf Havelis in Mukundgarh. The residents of the havelis do not allow the tourists to visit inside these days.
Mukundgarh-Mandwa, 15 kms: Mandwa is a bigger town. There are many havelis scattered all around in Mandwa Town. In Mandwa, I visited Dayaram Goenka Haveli, Murmuria Haveli and Jhunjhunwala Haveli. Only Jhunjhunwala Haveli is accessible to visitors, rest I visited from the outside only.
Day 3, (Jhunjhunu to Churu via Bissau, Mahansar and Ramgarh) : On the third day, I started from Jhunjhunu to visit the havelis in Bissau, Mahansar, Ramgarh and finally stopped in Churu for the night stay.
Jhunjhunu-Bissau, 36 kms: Bissau is not a very impressive place. If you don't have time, you can easily skip this. Bissau Fort is completely in ruined state, not so interesting and now a residence of a local family. There are two Sigatiya havelis, which is no more accessible due to some family disputes. Further away, behind Sigatiya Haveli, there is another haveli, that has a very nice and well maintained room full of the paintings. This room is accessible to the visitors after paying the entrance fee of Rs.50. The room is in excellent condition and beautifully preserved. It is well worth the entrance fee.
Bissau-Mahansar, 7 kms: The best place to visit in Mahansar is the Sone ki Dukan in ..Haveli and Dancing Hall in Tolaram Haveli. Tolaram Haveli was closed during my visit, but I visited Sone Ki Dukan, that has an impressive collection of frescos and murals depicting the stories of Shri Rama and Shri Krishna.
I also visited Raghunath Temple in Mahansar before moving further to Ramgarh.
Mahansar-Ramgarh, 8 kms: Ramgarh is an open air theater of haveli arts because of its numerous havelis. It has more havelis in comaprison to any other place in Shekhawati Region. But most of the havelis are abandoned. None of these havelis are open to the visitors. I visited most of them from outside, and outer wall of the havelis also have the impressive frescos.
Ramgarh-Churu, 17 kms: In Churu, I visited many havelis and Churu Fort. Most of the havelis including the famous Surana Haveli, are not open for the visitors. Only Malji ka Kamra, an old ruined haveli, now turned into a grand heritage hotel, is easily accessible.
Day 4, (Churu to Bikaner via Fatehpur) : On 4th day of the journey, my plan was to reach Bikaner by the evening after visiting Fatehpur in the first half of the day.
Churu-Fatehpur, 36 kms: Fatehpur is a big town in the Shekhawati Region. As I entered in town from the main highway, after riding for some 500 meters, I came across two beautiful havelis, those were again not accessible to the visitors. So, I clicked their pictures from outside like others.
I moved further and visited the famous Nadine Li Price Haveli. The entry fee for this haveli is Rs. 200 and includes the services of a professional guide. During my visit, the owner was not there, and I was guided by a beautiful lady, Elise, who was there on an internship opportunity offered by the haveli owners.
That completed my visit to the famous havelis of Shekhawati Region. Though many of these massive havelis are not accessible, but still you can feel their grandeur from the outside. After visiting those havelis, I moved further to Bikaner.
Fatehpur-Bikaner, 170 kms: After reaching Bikaner, I visited Junagarh Fort and Karni Mata Temple (30 kms away in Deshnok) on the same day.
Day 5, (Bikaner to Jaisalmer via Gajner Palace and Ramdevra) : In the morning, I went to see Bhanda Shaha Jain Temple and Laxminath ji Temple. There was nothing exciting to visit in Bikaner on that day, so I decided to move ahead towards Jaisalmer. I was in no hurry to reach Jaisalmer, so I thought to visit Gajner Palace also, that is 34 kms away from Bikaner on the road to Jaisalmer.
I was intended to make a night halt in Phalaudi or Pokhran. 12 kms before Pokhran, I also visited the temple of Baba Ramdev at Ramdevra village. In the premises of the temple, there is the Samadhi of Ramdev Ji who was a Hindu folk God of Rajasthan.
When I finished with Baba Ramdev Temple at Ramdevra, it was only 0530 PM. So, I decided to reach Jaisalmer by the evening rather than staying en-route. I reached Jaisalmer by 07.30 PM.
Day 6, (Jaisalmer Fort, Patwon ki Haveli and Sam Sand Dunes) : On the sixth day, I visited Jaisalmer Fort in the morning. It is a residential fort with thousands of residents inside the fort boundary, so you can visit it anytime. But the Jaisalmer Fort Palace Museum remain opens from 0800 hrs to 1800 hrs in summer and 0900 hrs to 1800 hrs in winter.
I also visited the famous Patwon Ki Haveli, which is about 15 mins walk from the fort.
Jaisalmer-Sam Sand Dunes, 39 kms: In the afternoon, I went towards the Sam Sand Dunes to enjoy the desert of Thar. I wanted to move further onwards to Phuliya, Sundra (about 115 kms from Sam), that has more extensive and virgin sand dunes, as suggested by many on the travel forums. But after 20 kms beyond Sam village, there was lot of sand blowed away on the road. My bike got stuck in the sand and then 15 minutes of labourious effort was needed to pull it back from the sand. I didn't wish to stuck anywhere again, so I returned back to Sam Dunes, and spent the evening there. I also enjoyed a cultural show there and then returned back to Jaisalmer in the night. It was only night in the entire trip, when I travelled after the sunset.
Day 7, (Jaisalmer to Tanot Mata Temple, Longewala and back to Jaisalmer) : On the 7th day, I was very excited to reach towards the border post BP 609 and Longewala, the famous battleground of 1971 Indo-Pak war.
Jaisalmer-Tanot, 121 kms: I started from Jaisalmer early in the morning and moved towards Tanot via Mokal and Ramgarh. Tanot is just 15 kms before the border, and famous for the Tanot Mata Temple. Any Indian citizen can go upto Tanot without any formal permission from the BSF. But beyond Tanot, towards BP 609, nobody can proceed without the permission from the BSF. I did not able to get that permit, so abandoned the plan to visit BP 609. It was really disappointing, but I was helpless.
Tanot-Longewala, 52 kms: Longewala is a small camping ground of the BSF, with a martyr's memorial and a destroyed T-59 tank of Pakistan on the display.
Longewala-Jaisalmer, 124 kms: While returning back to Jaisalmer, I stopped at Bada Bagh (12 kms before Jaisalmer) in the evening. All the royal family members of Jaisalmer were cremated here. A lot of cenotaphs were erected in this secluded peaceful place.
Day 8, (Jaisalmer to Jodhpur via Pokhran) : My initial plan was to return back to Delhi after visiting Jaisalmer. But since, I still had four days left, I decided to move further towards Jodhpur. On the 8th day, I started from Jaisalmer, visited Pokhran Fort in Pokhran and reached Jodhpur by the evening.
Jaisalmer-Pokhran, 111 kms: Pokhran is mainly famous as the site of India's Nuclear Tests in 1974 and 1998. But that site is not accessible to the visitors. So, I only visited Pokhran Fort there.
Day 9, (Jodhpur Local, Mandore Garden and Mehrangarh Fort) : It was the day to explore the attractions of Jodhpur city. We started quiet late and went to Mandore Garden initially. Mandore was an old town of Jodhpur and has a nice collection of temples and memorials in the garden premises.
Later, we went to Mehrangarh Fort, the most prominent attraction of Jodhpur. Mehrangarh fort is one of the largest forts in India, uniquely designed and has a great collection of antiques in the museum.
While returning back to the hostel from the fort, we made a quick stop at Jaswant Thada, a beautiful memorial built of white marble.
Day 10, (Jodhpur to Bullet Baba Temple, Via Pali to Ajmer, Pushkar Visit and Back to Ajmer) : Three years ago, during the previous trip to the Eastern Rajasthan, I had a major accident while trying to reach Ajmer in the late evening after the sunset. This time, I again decided to reach Delhi via Ajmer and Jaipur. But, before reaching Ajmer, I wanted to visit Bullet Baba Temple, that is only 55 kms away from Jodhpur. So, instead of going straight to Ajmer via Sambhar Salt Lake, I decided to go there via Pali.
Jodhpur-Rohat, 45 kms: I moved out from Jodhpur and reached Rohat (45 kms from Jodhpur), that is very famous in Rajasthan for the Mogar Kachoris and Mirchibadas of Prahladchand Mangilalji Prajapat.
Rohat-Bullet Baba Temple, 8 kms (along the main highway): Bullet Baba temple is a small shrine, dedicated to a local folk, Om Bana (Shri Om Singh Rathore), who died in the road accident, while riding his bullet many years ago. His bullet, Royal Enfield 350 cc, is showcased here in a glass cabinet.
Moving further, I reached Ajmer in the evening via Pali and Beawar.
Ajmer-Pushkar, 13 kms: Same day, I went to Pushkar and visited Brahma Temple, Brahma Sarovar, Pushkar Market and Pushkar Fair Ground.
While returning back to Ajmer, I stopped at Ana Sagar Lake for one hour.
Day 11, (Ajmer Visit, Dargah Sharif, Baradai, then Ajmer to Bhangarh via Jaipur) : In the morning, I again went to Ana Sagar lake to visit the Baradaris (The Marble Pavilions), erected by Mughal Emperor Shah Jahan on the lakeside.
From there, I went to Khwaja Gharibnawaj Dargah, the famous Dargah Sharif. There was a huge gathering due to the festive season of Eid-ul-Fitr. The crowd was so huge that I couldn't able to reach upto the main shrine, even after one and half hour wait. So, I decided to return back to the hotel after offering the prayer from the outside.
Ajmer-Bhangarh, 220 kms: In the evening, I reached Bhangarh via Jodhpur and Dausa. Bhangarh is mainly famous as a haunted place with many stories of the ghosts, but it is not about the ghosts only. In the middle of the small arawali hills, lush green surroundings, it is a beautiful archaeological site, specially in the rainy season. Visiting Bhangarh was the most pleasant surprise in the entire trip.
Day 12, (Bhangarh to Delhi via Sariska, Alwar) : On the last day, I had to reach Delhi by the evening, that is 240 kms away from Bhangarh.
Bhangarh-Sariska, 48 kms: I passed through the Sariska National Park and on the way, visited Sariska Palace, one a hunting adobe, now a grand heritage hotel.
Sariska-New Delhi, 194 kms via Alwar: Many people were walking through the forest of Sariska. Huge crowds was visible in the buses, on the tractors, on the bikes and on many other modes of transportation on the road between Bhangarh and Alwar. In curiosity, I asked about their destination and found about a local fair being held at the Bhartihari Temple nearby. I also joined them and visited that fair.
Since it was the last day of the trip, I did not have a strong desire to visit more and more places. There was no intention to visit the tourist places in Alwar city, so I kept moving and returned back to Delhi by the evening. The much-awaited trip to Rajasthan finally concluded without any problem.