If you are in Spiti, then one of the recommended thing to do there is a 4-days trek between Langza and Dhankar with night halt at Komik, Demul and Lahlung Villages. We were short of time during our visit and had only 3 days for this trek. My initial plan was to start this trek from Komik rather than Langza with night stop at Demul and Lahlung.But weather there was colder than I expected and Nidhi was not interested in this 3-days trek. Without any other choice, we decided to do a single day trek to Komik Village. Komik, situated at the height of 4587 meters, is famous for its old Buddhist Monastery
We enquired about the trekking route and route conditions from a local Lama at Kaza Monastery. He suggested us to route via Hikkim village. But later, when I spoke to a restaurant owner in Kaza, she suggested to take the trek route just above the Kaza town. She said that she often used to trek to Komik in less than one hour, so we could do it in maximum 2-3 hours. We made up our mind for second suggestion.
But there was a twist in this trek tale and that was the option of third trek route. While coming to Kaza by Kaza bus first time, I saw a sign board on the road showing Kaza-Kakti-Komik connection. That board was just 600 mtrs away from Kaza Bus Stand. Before proceeding on the second route suggested by the lady, I wanted to check that board also.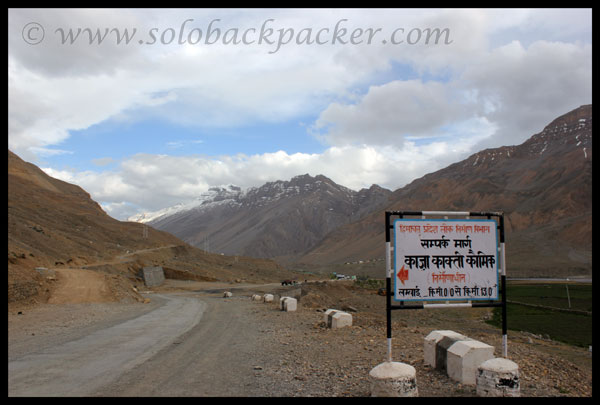 We went to that board (first mistake) and found that the third route was 13 kms long and routing was via Kakti village.  It was clearly written on the board that the route was under construction. I thought this route is under construction for a vehicle,not for pedestrians and we need only two feet wide stretch to trek and that should be available.second mistake.  We started our trek towards Komik Village. The under construction  road was good and we did not face any problem.It was only after two kilometers, when we realized our third mistake. We forgot the water bottles in the hotel room. Now,we were 3 kilometers away from our hotel room, so we did not want to go back.I thought (fourth mistake) in next 2-3 hours we would be in a village, where we could easily get the breakfast and water. Spiti Valley and the mountains around us looked so beautiful that we forgot about the water and lost in the heaven spread around us.At that point, We did not know that we were going to trapped in this cold desert without water for next 7 hours.
We moved further. A strong chilled wind with a mysterious sound was blowing at that height. Sky was filled by the black clouds and we were unprepared for the rain. There were no place to take a shelter in the case of rain.Our waterproof camera bag was the only positive thing. But, to our good luck there was no rain until we returned to Kaza in the evening. The clouds disappeared soon and the sky was clear. Weather seemed to favour us at least. Nidhi was tired very soon, so we made frequent stops for long durations.
After 2 hours and 5 kilometers of walking, we met the first person, appeared suddenly in the middle of hills, descending down to Kaza Town. I asked him about the distance of Komik Village. He was surprised and informed us that we were on the wrong way. He told that our route was closed after 2 kms ahead. When I asked about the alternatives, he told us that we should descend down to Kaza town to follow the second route suggested by the lady. But it was too late now. I decided to continue further.I thought he might came from any other village on the hills, if not from Komik. So there would be at least a village on my route, where we could spend some time. I did not confirmed this with that person. Fifth Mistake.There were electric wires all the way to the top of the hills, so we were sure about the existence of a village beyond the hills.
After 2 kms of further walk the main route was closed, but there was still a narrow path going upwards. We walked on that path and continued moving for next 2 hours. Around 11:30 AM, when we reached on the top of the hill, we saw another valley on the other side. There were only one house, alone the valley and electric wires terminated near that house. No existence of a village. Beyond that house there was a mountain pass in the middle of two mountains.  We were very thirsty. Nidhi was very tired and she did not want to walk further. Finally, she agreed to walk up to the mountain pass , so that we could see if there was any village beyond that. Otherwise we would return from that point.
Beyond that valley, there was again a wide road towards the mountain pass. It gave us a hope that there would be surely a village after the pass.We reached mountain pass in next 2 hours. and then Nidhi refused to move further. So, I advised her to stay there for some minutes,so that I could go to check the road beyond the mountain pass. I walked for about 1 km further and that wide road also terminated. There was still no sign of any village beyond that pass. I returned back towards Nidhi, and surprisingly found her in a deep sleep on that rough-rugged stoney road.
I woke up her to start our return journey towards Kaza. But first we were in the great need of the water, so we went to that single house in the valley. There was a lady working in the fields. She offered us the tea, but we were interested in the water only at that time. We chatted with the lady and she informed us that the only  man who met us earlier is her husband. He went to Kaza town to bring some vegetables for the dinner (about 7-8 kms descend for the vegetables only and they do it regularly !).  She also told us that there is indeed a way  to Komik village beyond that pass. But we were too tired to think about Komik now.
We asked her about Kakti village, that was mentioned on the sign board near Kaza. She informed us that her house was the only house of Kakti Village. We took water and it gave us some energy to restore our senses. In our tiredness, we forgot the beauty of nature around us. and when we realized the landscapes around us, it was a pleasant feeling. The landscape near the pass was very similar to the one I have seen in many movies of Utah Desert of USA. I captured many pictures there.
After spending about 45 minutes there, we asked her for any shortcut route to Kaza. She showed us a way going down from the hill. We moved ahead from there on that route, but after 2 kms the path was very narrow with a deep valley below. A single mistake could prove fatal there and it was very risky too. So, we again returned to that house and returned via the same route, we had taken earlier. When we were about to reach Kaza, we saw a little boy climbing on the hills. He informed that he was going to that house of Kakti village and would be there in 30 minutes only! We were walking on the same route from last 10 hours! He and his brother was studying in Kaza and they usually go to Kakti on weekends. The lady, we met there is her mother. We returned back to Kaza at 18:00 PM.
It was our 11-hours long, failed trekking attempt to Komik Village.But, whenever we see the pictures of the landscapes of that trek, it still give us a great pleasure that we at least spent some time in lap of the nature with beautiful surroundings.