Planning the Trip:
I always have this habit of making sudden plans and travelling places. In the month of October and November this year, I got a chance to stay for two months in Allahabad on an official tour. Staying in Allahabad was a golden chance for me to visit my home town frequently for two months. One weekend, I made a plan to visit Chitrakoot, which is 125 kms away from Allahabad. I wanted to ride there, so just brought the motorcycle from my home. I spoke with other friends for the ride and two of them, Deepak and Ashwani agreed for the trip.  It was decided that, on Saturday, Deepak and Ashwani will start  early in the morning from Kerakat (our home town)  to reach Allahabad by 9 AM and then after breakfast in Allahabad, we will ride to Chitrakoot on the same day. So the plan was formulated:
Riders: Deepak, Ashawani and Myself.
Motorcycles: Bajaj Pulsar 135, Hero Honda Splendor
Distance covered: 300 kms (approx) in two days excluding friends ride from home town to Allahabad (140 kms)
Reaching Chitrakoot:
In the morning, the chilled wind delayed the departure of Deepak and Ashwani from Kerakat and they could manage to reach Allahabad only by 11.30 AM. By 12 PM, we started our journey towards Chitrakoot. We took the newly build bridge of Naini and proceeded on Delhi-Rewa National Highway 27. Naini bridge is India's biggest cable-stayed bridge, erected in the years 2001-2004 on the banks of the Yamuna River.After some 20 kms of ride, after Ghurpur, we took the National Highway 76 going towards Jasra. This highway further goes towards Jhansi, Kota and Udaipur. The road condition is good for the first 60 kms, but after that the road is bad with lot of potholes. 15 kms before Karwi, we again got a good road to ride.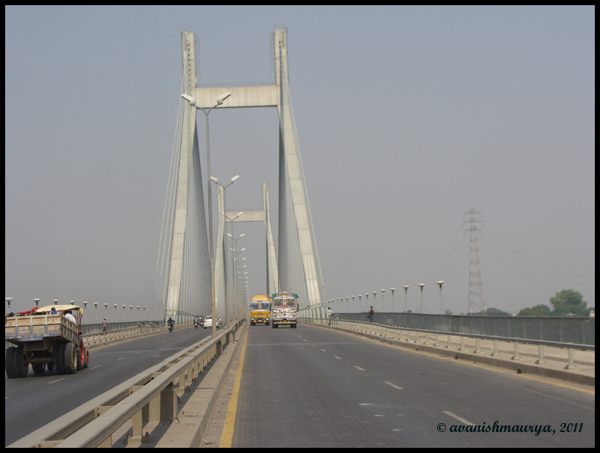 The interesting thing on the road is the present of petrol pumps. We have  seen petrol pumps at very frequent intervals, which was a surprise for us because it is not a busy national highway. The road passes through the lush green forests, small villages and barren lands and gives a true picture of India, that lives in its villages. The bad patch of the road reduced our speed significantly and we reached Karwi by 3.30 PM, which is the just 10 kms away for Chitrakoot and serves as the District Headquarter and Railway Station for Chitrakoot. From Karwi, we proceeded on the same highway going towards Banda. After some 6 kms, we left the highway for a road to Chitrakoot.
We reached Chitrakoot by 4 PM. This was my third visit to Chitrakoot. I went there twice in my childhood. Lord Rama' s famous stay in Chitrakoot falls in Madhya Pradesh as well as Uttar Pradesh.In my childhood days, this was a nightmare for pilgrims as one side of auto rickshaw could not go to the other side and had to stopped at the border. Similarly, the private vehicle had to cross the border only after paying taxes. But, now things are improved. You can book auto-rickshaws from any side of Chitrakoot to the other side and also commute between those portions with your vehicles without any problem. Now the problem lies only with the basic phones. Since Half of Chitrakoot lies in U.P. and the other half in M.P., to dial for U.P. Chitrakoot you have to add the STD Code 05198. To dial for M.P. Chitrakoot 07670 has to be added instead.
In search of a Rain Basera (Hotel):
Our search started from Rahi Tourist Bangla, run by U.P Tourism. After entering in Chitrakoot, this is the first good hotel you will notice, and later we realized that this was the best too. But for a double room, we did not want to spend Rs.900 for a night. We thought that we can get rooms at much cheaper rate at a place like Chitrakoot. We checked all the hotels, guest houses and dharamshalas twice, but unable to get a good conditioned vacant room. The famous Chitrakoot fair ended one week ago, but there was a big rush of pilgrims, which created the chaos of accommodation.
In search of our accommodation,we passed through the famous Ram Ghat of Chitrakoot.This is the most happening place of Chitrakoot. This place is like a miniature version of Varanasi, with the continuous steps lining the river and numerous boats lined up along the ghats.However, the boats are much more decorated in comparison to Varanasi. I took some quick photographs before moving further for the search.
In our disappointment, while we were finally moving towards The Rahi, we saw a guesthouse ( Name was either Guru Kripa or Sain Kripa) just 700 mtrs away from Ram Ghat. We checked with the caretaker and got a decent room at Rs.400 (Rs.500 saved). Next day, when we were going towards Sati Anusuya Temple, which is on the M.P.side of Chitrakoot, we have seen number of good guest houses and hotels. We were not aware about those location earlier, so it is highly recommendable to check the M.P.side of Chitrakoot while booking a hotel on arrival.
Exploring Chitrakoot:
Interestingly in our guest house, Deepak found his two old class mates, who were pursuing the Ph.D. from Gramodaya University, Chitrakoot. They are living there as the paying guest on the ground floor with other friends. They saw the number plates of our bikes parked outside and approached us as the number plates belong to their native place. It was a pleasant surprise.They also helped us to visit the places in Chitrakoot. We were ready to explore Chitrakoot by 5.30 PM in the evening.
Kamadgiri and Kamta Nath Temple:
We started from the Kamata Nath Temple. The temple is situated at the base of Kamadgiri Hill. The Sanskrit word 'Kamadgiri' means the mountain which fulfills all the desires. This is believed to be the original Chitrakoot and have been the abode of Lord Ram, Sita and Laxman during their exile. Lord Kamtanath, another of His names, is the principal deity not only of Kamadgiri but of the whole of Chitrakoot. Pilgrims do a Parikrama, or circumambulation of the hill containing this temple along a path. Path is well laid with tiles in 2 colours- each for UP and MP states (as i heard). However, we did not do that. The pilgrimage path around this hill is about 5 Km. long and was built by Pratap Kunwari ,the Queen of the Bundela King Maharaja Chhatrasal in 1725.
Aarti@Ram Ghat:
Next we went to see the Evening ritual, The Aarti, at Ram Ghat.  Many people assembled there and large numbers of boats were also moving in the Mandakini river carrying people, who wanted to see the ritual from the river side.We also booked a boat-ride at Rs.80 .We saw two rabbits on the boat, and noticed that every boat there was having one or two rabbit on it. Later, our boatman informed us that they consider it as a good omen for business and life.
The river is only about three times as wide as the length of the boat. I thought it would be something like the Ganges Aarti at the ghats of Varanasi.But the aarti ritual was neither a grand nor a big affair like Varanasi. Only a single priest with a single lamp containing multiples diyas performed the whole aarti. Only attraction of the show was the District Magistrate of Chitrakoot, who was there with his family to perform a part of the ritual.
There is a huge statue of Tulsidas who wrote 'The Ramcharita Manas' and had a first glimpse of Lord Rama and Laxman at Ramghat while he was preparing sandalwood paste, with Hanuman reciting the now famous couplet:
चित्रकूट के घाट पै भई संतन की भीर । तुलसीदास चंदन घिसे तिलक देत रघुवीर ।।
Lot of shops on Ram Ghat sell wooden made stuffs, bangles, diyas, god's pictures etc. We also bought three Lord Ganeshas made of wood and a small wooden boat.
There is a Bharat Milap Temple also, dedicated to Bharat, brother of Lord Ram.We saw a big statue of Lord Hanuman on the other side of the river. Nearby this statue there is a huge palace like building.But we din't go to that side of the river, so I don't have any idea on this.
We took dinner at the Annapurna Restaurant, the most crowded restaurant there. The restaurant interior and arrangements were very good, but the food quality was just OK. By that time, the crowd became very less in the area around Ramghat. We also went to sleep for the day to explore rest of the Chitrakoot next day.