This is my third blog in the series of my journey to the inner part of Devbhoomi Uttarakhand. The other two parts related to our visit to Joshimath, Badrinath, Mana Village and Vasudhara Falls can be found at:
Part 1
An Evening at Joshimath
Part 2
Badrinath, Mana Village and Vasudhara Fall
We started early in the morning at 6.00 AM from our guest house at Badrinath to Ghangaria Village, the base camp for Valley of Flowers and Hemkund Sahib treks. I did not have advance hotel booking in Ghangaria, and if you too not have, then an early start to Ghangaria from any point whether you are in Joshimath, Govindghat or Badrinath is recommended because earlier you reach Ghangaria, better the room you get in terms of tariff and quality.
Badrinath to Govindghat:
We reached Badrinath bus stand in 5 minutes from our guest house and there were lot of buses leaving to Haridwar and Rishikesh. But no conductor was willing to offer us two seats up to Govindghat, which is just 26 kms away from there. They want us to travel in standing mode. But due to the hilly terrain and zigzag road we wanted to get a seat for us. Finally after 15 mins wait a conductor came and offered a single seat to Nidhi. I was able to travel in standing mode. So to leave as early as possible, we boarded the bus. The journey was for about 40 mins only and it was not as bad as i thought. We left the bus at Govindghat.
There were huge rush of Sikhs Pilgrims, who were going to visit the Sacred Hemkund Sahib. They were everywhere, on the motorcycles, in the buses, by the cars, stayed in the hotels, guest houses and gurudwara…Govindghat(1828 mtrs) was full of them. Lot of motorcycles and cars were parked in numerous parking spaces. We did not stop at Govindghat and started climbing for our 13 kms trek to Ghangaria village (3048 mtrs).
Govindghat to Ghangaria: 
We stumbled over the swing bridge and finally set off! This seemed to be a tough trek indeed in our first kilometer only. I could have do it, but I knew it was not possible for Nidhi. But she showed some courage and after taking the breaks at short intervals, we moved further.
Our backpacks were bit heavy, indicated by many people. Once I thought to leave some of my stuffs at the locker available at Govindghat, but then I  left that idea. But after two kilometers only, i realized that it was a big mistake made by us. By that time Nidhi was exhausted and our break intervals started increasing. I thought by this speed, we would not be able to make it before 5-6 PM. A mule owner saw our bags and guessed our conditions. He came and offered a mule ride to Ghangaria at the cost of Rs.800/-.But Nidhi refused and said she will complete this trek on its own. After another half an kilometer she got very tired. The mule owner was constantly chasing us and by that time I decided to hire a mule for Nidhi. After a short bargaining he was agreed for Rs.500/-. Nidhi took our two bags and proceed further to Ghangaria on Mule. It also gave me a freedom to move faster and with less frequent break intervals.
The trekking route to Ghangaria was in very bad shape and thank god that there was no rain at that moment. There were lot of shops at frequent distance and offered glucose,chocolates,breakfast,lunch, drinking water, clod drinks everything in that dense forest area. It was amazing to see the determination of the old people making the pilgrimage. Dressed in their traditional clothes, orange turbans covered Made in Indian plastic to stop the rain, some had swords strapped to their sides – a few even completed this 13kms trek in bare feet! They were really sweet, especially the oldies. So many of them talked to me and complete strangers gave us sweets and glucose powder. We  were passed through two small villages known as Pulna and Bhyundar. This entire valley is known as Bhyundar Valley. Despite the heavy rush of visitors little seemed to have changed for these villagers. Roads were bad, the houses primitive, neglect and decay reigned everywhere.
Nidhi was just 15-20 minutes ahead of me constantly till 5 kms to Ghangaria. We stopped at two places to take the breakfast and some snacks. Not everyone completed the trek on foot. Hundreds of donkeys and mules stumble up the path too, carrying huge loads. Many of the people they were carrying were in their twenties and smugly rode past the struggling oldies. The last 3 kms of the trek were steepest and very tough. I was very tired, but kept moving in the hope to complete it as early as possible. Just 1 km before Ghangaria, we passed thorugh a helipad and tented accomodation of Sarovar Hotels. First sign of Ghangaria was only for the  people who can afford the luxury and not interested in the natural beauty and physical tiredness of the route (Helicoptor service from Gauchar to Ghangaria starts from 15000 INR per person for a return trip and tented accomodation starts from 4000 INR plux taxes). Finally, I reached Ghangaria, also known as Govind Dham, around 1.15 PM.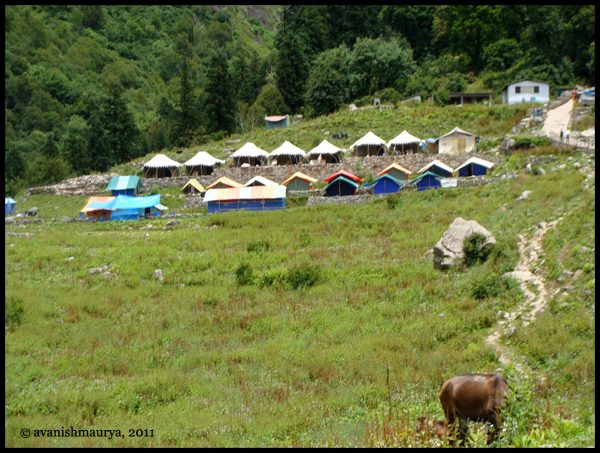 Ghangaria Village:
Nidhi reached 45 minutes before and was waiting for me in front of GMVN rest house. I knew already that there is no vacant room at GMVN, so I explored other options without wasting my time.There were plenty of accommodations available at Ghangaria. Almost every house there were converted in a hotel. Finally, in front of GMVN only we got a decent room with rent of Rs.500/- per night. We straight went to bath to reduce our tiredness. After a quick lunch i went to sleep for the day. We woke up in evening and went to explore Ghangaria Village.
Ghangaria is situated on the bank of the river Lakshman Ganga. It is the last human habitation in this tiny valley. This place is usually used by travelers as a base camp to visit Hemkund and Valley of flowers. It is only open from May till September. The rest of the year the valley is covered under 8 feet of snow.
In Ganghria,the Larger River Pushpawati flowing from Rataban and Nilgiri Ranges across the Valley of Flowers, meets the Lakshman Ganga from Hemkund Lake(The glaciers of Haathi Parvat and SaptShring peaks forms this lake), from here Onwards River is known as Lakshman Ganga.Later, at Govindghat,Lakshman Ganga merges with the Alaknanda River.
In order to get one connected to outside world one can find number of PCO at Ghangaria where one can make STD/ISD calls but rates are quite high like 20 INR per minute. Beside that BSNL have their mobile connectivity even at Ghangaria so you can also get yourself equipped with BSNL SIM card.
We went to Gurudwara at Ghangaria. It was of fully packed with pilgrims. If you were unable to get any room at Ghangaria, then also you should not be worry. The Gurudwara is large enough to give you a shelter. Blankets are also available. It is sure that you will not sleep outside in the chilly night. Langer is also available at Gurudwara. There were lot of people sipping tea inside the Gurudwara in the evening. I also enjoyed the tea.
Outside the Gurudwara, I found these shoe-makers. After 13 kms of trek, my shoes was again in bad shape and the guy fixed it beautifully for my next day trek.
While returning back from the end of the village on VOF side, we find a interesting theater at Ghangaria. This local theater screened the movie for porters and mule owners on a Television Set. Every afternoon they placed a notice about the movie name, its star-cast and screening time.
There is a small documentary centre run by the forest dept next to GMVN in Ghangaria which screens a 22 minute film on VOF and it is open till 7 pm in the evening.
After some market watch, we took an early dinner at the restaurant in our hotel. The food quality was good enough for this remote location. Being a base for the popular Sikhs Pilgrimage site, many good Punjabi dishes are available at Ghangaria.
This was the end of our day and we went to sleep early, so that we can start early in the morning to Valley of Flowers on next day.
Some Facts About Ghangaria –
1.While trekking to Ghangaria, keep your backpack as light as possible. Lockers are available at Govindghat. The 13 kms trek is long enough to make you tired without backpack also.
2. No ATM and No Credit/Debit cards at Ghangaria, (or even at Govindghat) (withdraw enough cash either at Badrinath or Joshimath, advisable at Joshimath as ATM at Badrinath may not work also)
3. Everything is double the MRP
4. Electricity is available only for 2-3 hrs in the morning and 3-4 hrs in the evening
5. No network coverage but you will find BSNL PCOs with a satellite phone charging 20 INR per call(pulse rate 60 seconds)
6.A bucket of hot water costs Rs.30 and you need to order 15 mins before you use it. Most hotels charge for hot water barring may be GMVN.
7. Some rooms may not have electric plugs to charge your phone and camera, so give them to the owner. He will charge it and return it safely.
8. Bring enough inner wears, as they may not be dry here because of humidity and almost daily rain.
9. Must bring a raincoat or buy a local plastic made raincoat (cost 15-25 INR), as there can be rain at any time.